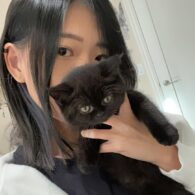 Lil' Cat (Formerly Siri) (Cat)
Once known as Siri, Lil' Cat now roams as the cherished Black Cat companion of Kkatamina. The adoption tale unfurled on October 11, 2021, unveiled to the world through an Instagram proclamation by Miyoung. The christening of Siri, a nod to "Sirius," was the brainchild of Disguised Toast, a title warmly embraced by Miyoung as a temporary tag. Yet, as the sun set on the Fuslie House era and dawn broke with Miyoung's transition to Leak House, a new guardian emerged. Sykkuno, stepping into the role of Siri's steadfast companion – or in the eyes of the virtual crowd, the "owner" – opted for a fresh name, "Lil' Cat."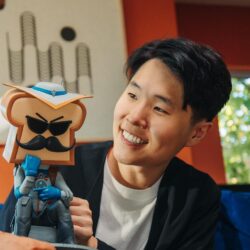 Birthday
November 25, 1991 (32)
Disguised Toast, whose real name is Jeremy Wang, is a prominent internet personality and gamer, widely recognized for his content revolving around the digital card game Hearthstone and the social deduction game Among Us. Originating as a Hearthstone streamer, Toast quickly garnered attention with his unique approach to gameplay and his comedic persona, which resonated with a large audience. His breakthrough moment came when his disguised toast mask gimmick caught the eye of viewers, providing a mysterious yet approachable online persona.
The cornerstone of Toast's career has been his streaming content, primarily around Hearthstone initially and later branching out to other popular titles like Among Us and Valorant. His humorous and analytical take on games, coupled with a knack for explaining complex strategies in an accessible way, has made him a beloved figure in the online gaming community. His YouTube channel, where he uploads highlights and other content, has amassed millions of subscribers, indicating the broad appeal of his gaming narrative and approach.
Over time, Disguised Toast has collaborated with numerous other internet personalities and streamers, creating a network of content that expands across different gaming communities. Notable individuals include Pokimane, Valkyrae, xQc, Corpse Husband, Ninja, Shroud, Ludwig, Jschlatt, Sykkuno, and Lilypichu.
Disguised Toast has had several significant moments where his expertise and contributions to the gaming community were acknowledged. He was invited to Blizzard Entertainment's headquarters, a nod to his influence in the Hearthstone community.