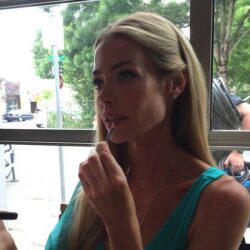 Birthday
February 17, 1971 (52)
Denise Richards is an American actress and television personality known for her varied roles in both film and television, as well as her vibrant presence in the entertainment industry.
Denise Richards first captivated audiences with her sultry performance in the film Wild Things, a role that many consider her breakout. Her film career took off with appearances in notable movies like Starship Troopers and the James Bond film The World Is Not Enough, where she played the Bond girl Christmas Jones. On the television front, Richards starred in the reality show Denise Richards: It's Complicated, which gave fans an intimate look into her personal life. She later joined the cast of the popular reality TV series The Real Housewives of Beverly Hills, offering viewers more insight into her daily life, relationships, and challenges.
Throughout her career, Richards has collaborated with a roster of esteemed celebrities and artists. In The World Is Not Enough, she worked alongside Pierce Brosnan, who played the iconic James Bond. Her role in Starship Troopers had her sharing the screen with Casper Van Dien and Neil Patrick Harris. In Wild Things, she worked with Neve Campbell and Kevin Bacon. Additionally, her stint on The Real Housewives of Beverly Hills saw her mingling with fellow housewives like Kyle Richards and Lisa Rinna.
Over the years, Denise's work has garnered recognition and nominations. She was awarded the Blockbuster Entertainment Award for Favorite Female Newcomer for her role in Starship Troopers. Additionally, her portrayal of Christmas Jones in The World Is Not Enough earned her the Razzie Award for Worst Supporting Actress.
A lesser-publicized aspect of Richards's life is her love for animals. She has always been an avid animal lover and advocate. Over the years, she has rescued countless pets and given them a loving home. She often takes to her social media platforms to share stories of her furry friends and raise awareness about the importance of pet adoption, emphasizing her commitment to the well-being of animals.
Richards was married to Charlie Sheen from 2002 until 2006, and they had two daughters together, one being model Sami Sheen.