Nino is a Bull Terrier. Rillette is a Guinea Goose. At first, you wouldn't think they'd have anything in common, and the chances of them becoming friends would be slim. But at a lovely farmhouse found in Provence along the south of France, a beautiful friendship was born.
Nino the Bull Terrier was born in October 2017 and grew up with a love for all animals. Rillette the Guinea Goose joined the family in May 2020 and immediately took a liking to Nino. And the pair have been inseparable since!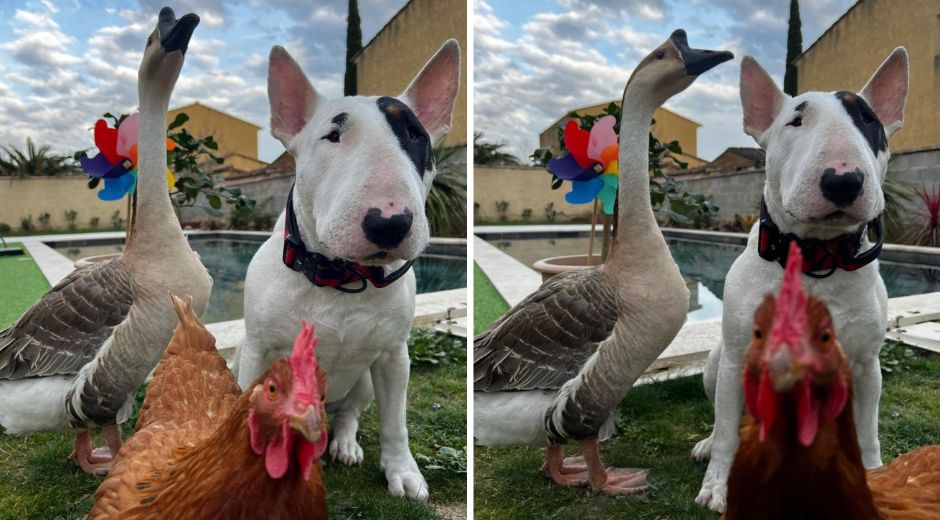 Nino and Rillete enjoy their days playing and teasing each other at home.
And exploring the beautiful Provence countryside and the Rhône valley.
Hey Georgette, just trying to make a video with Nino here – Can you give us a sec?
But they also love to stay in and watch some soccer.
For proof of Nino's universal love for animals of all kinds, please see below:
Ok Ok, Georgette didn't want us to forget she joined the crew and they all have a good time as a trio and that she totally never annoys them.
For more Nino and Rillette (and Georgette) follow @ninobullterrier on Instagram and TikTok, and @Ninodamouretdeaufraiche on Facebook.
For another canine-waterfowl love story, check out the mysterious duck who turned up to cure a dog's depression.