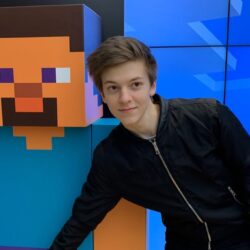 Birthday
January 7, 2002 (21)
Weston Koury is an American internet personality who has carved a niche for himself in the world of online entertainment, especially known for his engaging content on platforms like YouNow and YouTube.
Koury's foray into the online world started with YouNow in 2015, where he quickly established a dedicated fanbase with his lighthearted and comedic style. He transitioned smoothly into the YouTube domain, amassing millions of subscribers for his variety of content, from vlogs to reaction videos and humorous skits. Notably, his participation in the Minecraft gameplay series on the Epic SMP server showcased his creativity and entertaining abilities, contributing to his growing popularity.
Koury's career has seen him collaborate with numerous fellow online personalities, enriching his work and broadening his reach. Collaborations with other influencers such as Kaelyn Wilkins, Erin Gilfoy, Carly Incontro, and Issa Twaimz introduced Koury's charm to new audiences. Additionally, his engagement with prominent figures such as CrankGameplays, Razzbowski, Dawko, and Fundy provided opportunities for fascinating crossover content. Of special note, Koury's work with fellow YouTuber and close friend, Kalynn Koury, has offered fans a delightful sibling dynamic.
Throughout his career, Koury's efforts have earned him significant recognition. He was a featured guest at VidCon 2016 and Playlist Live, platforms that honor the biggest stars in the digital media world. His consistent and unique content also garnered him a Shorty Award nomination in the "YouNower of the Year" category in 2016, demonstrating his impact in the online entertainment landscape.