 No Pets (Walker Kessler)
Walker Kessler does not have any reported pets.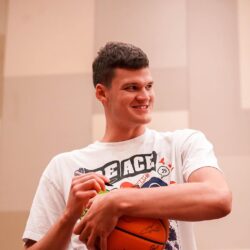 Birthday
July 26, 2001 (22)
Walker Kessler is an American professional basketball player currently playing for the Utah Jazz of the National Basketball Association (NBA). Known for his defense and shot-blocking abilities, he gained attention during his collegiate career with the North Carolina Tar Heels and the Auburn Tigers before making his mark in the NBA.
Kessler's college years were eventful, to say the least. A consensus five-star recruit, he committed to the North Carolina Tar Heels, passing over offers from heavyweights like Duke, Michigan, and Virginia. After a single season, he transferred to Auburn, where he left a lasting impression. Most notably, on December 29, 2021, he posted a triple-double against LSU with 16 points, a career-high 11 blocks, and 10 rebounds. He capped off his college career by being named SEC Defensive Player of the Year and 3rd Team All-American, setting the stage for his professional journey.
In terms of collaborations with influential people, Kessler has found himself sharing the court and locker rooms with a myriad of talents. While at Auburn, he played alongside Allen Flanigan and Jabari Smith. His initial foray into the NBA began with the Memphis Grizzlies, where he was drafted alongside TyTy Washington. Soon after, he was traded to the Minnesota Timberwolves, lining up with personalities like Patrick Beverley and Malik Beasley. However, his most notable trade was to the Utah Jazz, where he joined forces with Donovan Mitchell, Bojan Bogdanović, and Mike Conley, among others.
Kessler's early career in the NBA has not been without its distinctions. After being traded multiple times, he eventually found a stable home with the Utah Jazz, where he has been able to put up impressive numbers. For instance, on January 16, 2023, Kessler scored a double-double with a career-high 20 points and 21 rebounds in a win against the Minnesota Timberwolves. Just a couple of months later, on March 25, he scored another career-high 31 points accompanied by 11 rebounds, although in a loss to the Sacramento Kings. He concluded his rookie year as a finalist for the NBA Rookie of the Year Award, ultimately finishing third in the voting.