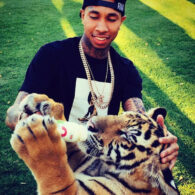 Maverick
Back in April 2014, Tyga had his pet tiger, Maverick, was taken by authorities. California Wildlife officers placed the 7-month-old tiger at a private animal shelter after seeing a post of the cat on Instagram. In the past few months, the shelter has been seeking help to support the now 500lb animal. The responsibility of the tiger belongs with the shelter, and Tyga is unwilling to help. It costs more than $10,000 a year to feed Maverick as well as vet costs, flea control, and general maintenance. The shelter replies on donations to cover the costs.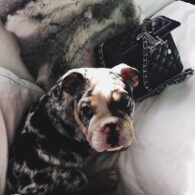 Rolly
In September 2015, Kylie Jenner and Tyga, boyfriend at the time, received an extravagant gift. It was an English Bulldog puppy named Rolly. The puppy came from Shrinkabulls.com which is known for providing celebrities with unique and very expensive breeds. Dogs from Shrinkabulls.com fall in the price range between $3,000 to $30,000 each. But, when Jenner posted Rolly on Snapchat she included dollar signs and the caption "50K." Is that how much the dog was? He's adorably scrunchy-faced and has tri-color spots, as a Merle English Bulldog.
Later that year, Kylie reported that the dog did not belong to her. It looks like the initial posts may have been from a short term visit. Or, perhaps the price tag was a little too pricey and they returned the dog.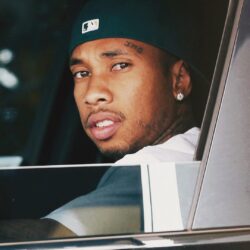 Birthday
November 19, 1989 (33)
Tyga, born November 19, 1989, is an American rapper. Tyga signed with Young Money Entertainment, Cash Money Records and Republic Records (formerly Universal Republic Records). No Introduction, released on Decaydance Records on June 10, 2008, was Tyga's first independent album.
In May 2018, Tyga's single, "Taste" (featuring Offset), peaked at number 8 on the Billboard Hot 100, being his first Top 40 single since "Ayo" with Chris Brown in 2015. The song would later serve as the lead single for his seventh album Legendary, which was eventually released in 2019.