Reggie (Joe the Dog)
Tom Selleck has always worked alongside dogs, ie. Jesse Stone. Besides working with them, he has had a few of his own but he has been fairly private with his family life.
Stone's only reliable companion through the series is Reggie, a golden retriever mix played by Joe the Dog. Joe didn't belong to Tom, but to Canadian animal trainer from Nova Scotia, Heather Soper. Joe passed away in June 2013.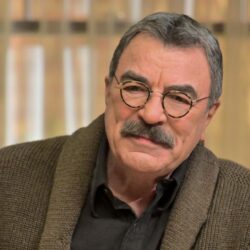 Birthday
January 29, 1945 (78)
Tom Selleck is an American actor, television and film producer and screenwriter. His breakout role was playing private investigator Thomas Magnum in the television series Magnum, P.I. (1980–1988), for which he received five Emmy Award nominations for Outstanding Lead Actor in a Drama Series, winning in 1985. Since 2010, Selleck has co-starred as New York City Police Commissioner Frank Reagan in the series Blue Bloods. Beginning in 2005, he has portrayed troubled small-town police chief Jesse Stone in nine television films based on the Robert B. Parker novels. He is the father to Hannah Margaret Selleck.
Working with John Hillerman in "Magnum, P.I.," the duo's on-screen camaraderie was widely acclaimed. In his role on "Blue Bloods," his synergy with Donnie Wahlberg and Bridget Moynahan has been central to the show's success. Another memorable collaboration was with Courteney Cox on "Friends," where his portrayal of Dr. Richard Burke added another layer of complexity to the sitcom. In the film world, he teamed up with Steve Guttenberg and Ted Danson in the hit comedy "Three Men and a Baby," and his performance alongside Kevin Kline and Steve Martin in "In & Out" was well received. He further shared screen space with celebrated actors like Sam Elliott in "The Sacketts" and Gene Simmons in "Runaway." His work with Elliott, in particular, won the Western Heritage Award for Fictional Television Drama.