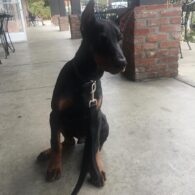 Caesar
Caesar is a Doberman Pinscher adopted by The Weeknd following his breakup from Selena Gomez. It is believed that Caesar had a predecessor named Julius with an Instagram photo to prove it. However, there is no information on where Julius is currently and why he isn't included in more photos with The Weeknd and Caesar.
The Weeknd (Abel Tesfaye)
Birthday
February 16, 1990 (33)
Abel Makkonen Tesfaye is more commonly known as The Weeknd. He is a known dog lover and owns a Doberman Pinscher named Caesar whom he adopted following his breakup from Selena Gomez. The Weeknd is a Canadian singer, songwriter, and record producer who has been awarded Grammys, Juno Awards, American Music Awards, MTV Video Music Awards, BET Her Awards, and more.
The Weeknd started his career by posting songs to YouTube. The three that were noticed by Drake, and then linked to on the famous rapper's blog were "What You Need", "Loft Music" and "The Morning" (2010). His self-released debut tape, House of Balloons (2011) was met with critical acclaim and named as one of ten shortlisted nominees for the 2011 Polaris Music Prize. Drake attended The Weeknd's first live performance and propositioned him for a potential music collaboration. Following this, The Weeknd began performing as the opening act for many of Drake's shows and contributed to Take Care (2011), Drake's multi-platinum Grammy Award-winning sophomore studio album. The Weeknd has three studio albums released, Kiss Land (2013), Beauty Behind the Madness (2015), and Starboy (2016).
The Weeknd's featured on "FML", a track by Kanye West and "6 Inch" a song from Beyoncé's Lemonade album (2016). He's worked with Lana Del Ray on "Lust for Life" and had Daft Punk featured on his hit single, "Starboy".