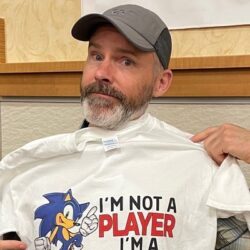 Birthday
August 11, 1975 (47)
Roger Craig Smith is an American voice actor recognized for portrayal of Sonic the Hedgehog in various animated projects, including video games, TV series, and films. Smith's energetic and charismatic voice acting brought the iconic character to life, earning him a dedicated fan base and widespread recognition.
In addition to his individual success, Smith has collaborated across various platforms and mediums, including video games, animation, and voice-over work. Notable collaborations include working alongside renowned actors like Mark Hamill, Tara Strong, Troy Baker, Laura Bailey, Nolan North, and Jennifer Hale, among others.
Smith's exceptional talent and dedication have been acknowledged with several awards and honors. He received the BTVA Voice Acting Award for Best Male Vocal Performances in Video Games for his portrayal of Ezio Auditore da Firenze in the acclaimed "Assassin's Creed" series.