 No Pets (Riki Lindhome)
Riki Lindhome does not have any reported pets.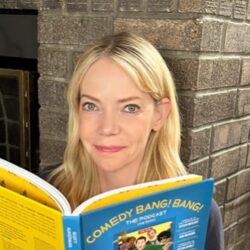 Birthday
March 5, 1979 (44)
Riki Lindhome is an American actress, comedian, and musician, best known for her work in both television and film. Her career has been marked by a variety of roles that showcase her range as a performer. Lindhome first gained attention with her role in the television series "Gilmore Girls," where she played Juliet. Her film debut was in the 2003 movie "Million Dollar Baby," directed by Clint Eastwood.
Lindhome's career spans a range of projects, including notable appearances in television series such as "The Big Bang Theory," where she portrayed Ramona Nowitzki, and "House," in which she played Sarah. Her filmography includes roles in "The Last House on the Left" and "Much Ado About Nothing." Additionally, Lindhome has showcased her musical talents as part of the comedy duo Garfunkel and Oates, alongside Kate Micucci, releasing several albums that blend comedy and music.
Collaboration has been a significant aspect of Lindhome's career. She has worked with a variety of artists and celebrities, including Clint Eastwood in "Million Dollar Baby," Keanu Reeves in "Knock Knock," and Amy Schumer in "Another Period." Her partnership with Kate Micucci in Garfunkel and Oates stands out, as does her work with Natasha Leggero in "Another Period." Lindhome has also collaborated with actors like Michael Stahl-David in "The Last House on the Left," Joss Whedon in "Much Ado About Nothing," and Ryan Gosling in "Lars and the Real Girl." Her television collaborations include working with Johnny Galecki and Jim Parsons in "The Big Bang Theory," Hugh Laurie in "House," and Lauren Graham in "Gilmore Girls."
Throughout her career, Lindhome has received recognition for her work. While she may not have a long list of traditional awards, her contributions to the entertainment industry are notable. Her work in "Another Period," which she co-created, wrote, and starred in, has been particularly recognized.