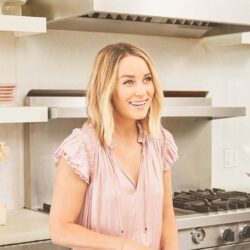 Birthday
February 1, 1986 (37)
Lauren Conrad is an American television personality, fashion designer, author, and entrepreneur. Born in 1986, Conrad rose to fame in the early 2000s with her starring roles on popular MTV reality shows, Laguna Beach: The Real Orange County, and its spin-off series, The Hills. However, her achievements extend far beyond the world of reality television, with her fashion empire and literary works making her a notable figure in the entertainment industry.
Conrad's breakout role came in 2004 when she was cast as one of the main characters on Laguna Beach: The Real Orange County alongside Kristin Cavallari. The success of Laguna Beach led to the spin-off series, The Hills, which premiered in 2006. The show was an instant hit, with Conrad again taking center stage as the protagonist. In 2009, she had a cameo in the comedy film, "Get Him to the Greek," starring Jonah Hill and Russell Brand. Conrad has also made appearances on popular television shows such as "Family Guy" and "Greek."
However, Conrad's career milestones are not limited to her roles on reality TV. In 2007, she launched her clothing line, The Lauren Conrad Collection, which was later renamed LC Lauren Conrad. Her fashion brand quickly gained popularity among young women, and her collections were sold in major department stores across the United States. Conrad's success as a designer also led to collaborations with several other brands, including Kohl's and Paper Crown.
Conrad has also made significant contributions to the literary world. In 2009, she released her first novel, L.A. Candy, which quickly became a New York Times bestseller. The book was the first in a series of three novels that followed the fictionalized version of Conrad's life in Los Angeles. She has since authored several other books, including a series of young adult novels, and books on beauty and entertaining.
Conrad has collaborated with several celebrities and influential people. In 2009, she teamed up with fashion icon, Diane von Furstenberg, to create a line of dresses for the fashion brand. She has also worked with famous fashion photographers such as Gilles Bensimon and Rankin. In 2015, Conrad partnered with Kohl's to create a Disney-inspired collection, which included items inspired by Minnie Mouse and Cinderella.
Conrad is also known for her advocacy for animals and support of animal non-profit organizations. She has been vocal about her love for pets, particularly her dogs, and has worked with several animal shelters and rescue organizations. In 2012, she created a limited-edition t-shirt to support the non-profit organization, ASPCA.