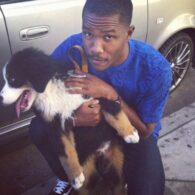 Everest
Frank Ocean had a beloved Bernese Mountain Dog named Everest that he got in 2011. Everest was diagnosed with cancer in March 2017 and treated for it, but sadly the cancer returned and he passed away that year. Everest's legacy lives on, by being the only dog to ever win a Grammy Award. This was due to Ocean giving Everest executive producer credits on the album "Channel Orange". Frank Ocean's mom, Katonya, shared this heartfelt tribute to Everest on Instagram:
Who would've known that I would have fallen so crazy in love with this beautiful creature? Everest was diagnosed with cancer six weeks ago and my heart has been crushed. He was in so much discomfort as the tumor was the size of a small lemon behind his eye. My son decided that we should take him to an oncologist and the treatment made the tumor all but disappear and our lovable dog was feeling great. Until the cancer metastasized to his lungs… the last few days have been so hard for him and for us. I know that we will have to let him go. As difficult as this decision will be, we can't allow him to be in this pain. We will take loving care to make sure he's home with us, his little family, surrounded by love as he falls off to sleep and our hearts collectively break. You'd have to have had, and have loved a pet to understand this pain..💔💔#lovingeverest #lettinggo

Katonya Breaux, Instagram, June 2017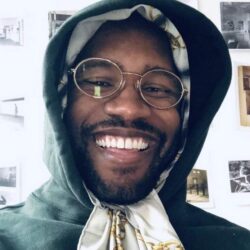 Birthday
October 28, 1987 (35)
Frank Ocean is an American Grammy Award-winning musician, singer-songwriter, and record producer. He is best known for his critically acclaimed debut studio album, "Channel Orange," which was released in 2012. The album showcased Ocean's unique sound, which blends R&B, soul, and alternative music. Since then, he has released several other successful albums and collaborated with various artists across different genres.
Throughout his career, Frank Ocean has collaborated with numerous prominent figures in the entertainment industry. He has worked with artists such as Beyoncé, Jay-Z, Tyler, The Creator, Pharrell Williams, and Kanye West. For instance, he co-wrote and featured on Beyoncé's track "Superpower" from her self-titled album in 2013. He also collaborated with Jay-Z on the song "Oceans" from the album "Magna Carta Holy Grail" in 2013. In addition, he worked with Tyler, The Creator on the song "Where This Flower Blooms" from the album "Flower Boy" in 2017.
Aside from his successful collaborations, Frank Ocean has had several notable accomplishments in his career. In 2013, he won two Grammy Awards for Best Urban Contemporary Album and Best Rap/Sung Collaboration for his song "No Church in the Wild" with Jay-Z and Kanye West. He has also received critical acclaim for his music, earning several accolades from music publications and critics. In 2016, he released his highly anticipated album "Blonde," which debuted at number one on the US Billboard 200 chart and received widespread critical acclaim.