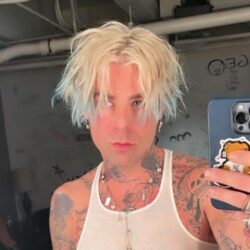 Birthday
March 10, 1987 (36)
Mod Sun (real name Derek Ryan Smith) is an American rapper, musician, and writer. He began his career in music as a drummer, playing in various local bands before eventually transitioning to rapping and singing. In 2009, he released his first mixtape, titled "Let's Get Lost," which helped him gain a following and attract the attention of other artists in the industry.
Since then, Mod Sun has released several successful albums, including "Movie," "Look Up," and "BB," which have all received critical acclaim and helped him build a loyal fan base. He has collaborated with a variety of artists, including Machine Gun Kelly, Travis Barker, and blackbear, and has toured with acts such as Halsey, G-Eazy, and Demi Lovato.
In addition to his music career, Mod Sun is also an accomplished author, having released several books of poetry and prose. He has also made appearances in film and television, including the movies "The After Party" and "Booksmart".
He was engaged to punk rocker Avril Lavigne, before breaking up in February 2023.