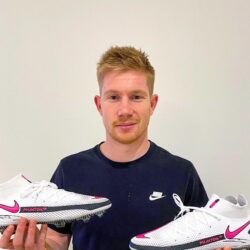 Birthday
June 28, 1991 (32)
Kevin De Bruyne is a Belgian professional footballer widely celebrated for his expert ball control, precise passing, and leadership on the pitch. Making a name for himself in the football world, De Bruyne has dazzled fans, players, and pundits with his remarkable playmaking abilities. Standing out in elite clubs, he has become synonymous with the spirit and determination of Manchester City Football Club in the English Premier League.
As his career soared, De Bruyne played key roles in various clubs across Europe. After showcasing his early talents at Genk in Belgium, he moved to the English Premier League with Chelsea, though his time there was short-lived. A defining period came during his tenure at VfL Wolfsburg in Germany where he took his game to new heights. Returning to England, this time with Manchester City, he has since been a pivotal figure in the team's numerous successes, including league titles and domestic cup victories.
Over the years, De Bruyne has been fortunate to share the field and develop on-pitch chemistry with numerous world-class players. These include Sergio Agüero, David Silva, and Raheem Sterling at Manchester City. During his international career with the Belgian Red Devils, he's formed close partnerships with the likes of Eden Hazard, Romelu Lukaku, and Thibaut Courtois. Furthermore, under the guidance of influential managers such as Pep Guardiola and Roberto Martinez, De Bruyne has enhanced his tactical acumen, becoming a central figure in their teams.
Throughout his illustrious career, Kevin De Bruyne has been recognized for his exceptional talent through numerous individual titles. He has secured the Premier League Playmaker of the Season award multiple times and has been named in the PFA Team of the Year on several occasions. On the international stage, he played a vital role in Belgium's third-place finish at the 2018 FIFA World Cup.