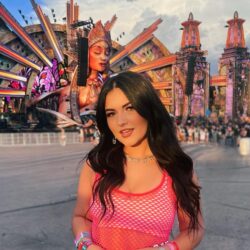 Birthday
September 20, 1999 (24)
Katrina Stuart is a Canadian musician and singer best known for her engaging social media cover songs of artists such as Beyoncé, Gwen Stefani, and Maroon 5.
Emerging as a musical aficionado since her tender age of four, Stuart honed her singing abilities and eventually expanded her repertoire to include modeling and acting. Her versatile career has embraced a variety of avenues, from the stage to the screen. In addition to her cover songs, she has released original music, most notably the song "Right Now," garnering a broad online following in the millions.
Although she's primarily made her name through solo projects, she's worked alongside an array of talents in multiple fields. In the realm of acting, she appeared in the television series Patch Town in 2011 as Bethany Frank, working with professionals such as Julian Richings and Zoie Palmer.