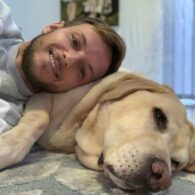 Nuno (Dog)
Ivan Rakitić had a yellow Labrador dog named Nuno that passed away in March 2023. He posted the tribute below to his beloved Lab on Facebook.
Mi NUNO mi GRAN amigo.el que siempre me esperaba no importa la hora de llegada tu siempre estabas esperándome al cruzar la puerta. SIEMPRE vas a estar en mi corazón y el de toda nuestra familia porque más NOBLE, CARIÑOSO y LEAL no existe ni existirá un perro te quiero muchísimo mi NUNO descansa en paz

My NUNO my GREAT friend who always waited for me no matter the time of arrival you were always waiting for me to cross the door. you will always be in my heart and that of our whole family because more NOBLE, CARING and LOYAL does not exist nor will there be a dog. I love you so much my NUNO rest in peace (translated by Facebook)

Ivan Rakitic, Facebook, March 2023
Birthday
March 10, 1988 (35)
Ivan Rakitić is a Croatian professional footballer who gained prominence during his tenure with FC Barcelona. He made significant contributions to the sport, including pivotal roles in several highly publicized matches and tournament victories.
One of Rakitić's notable achievements on the field was his key role in leading FC Barcelona to victory in the UEFA Champions League in 2015. His performance during this tournament not only established him as a key player for Barcelona but also helped solidify his position as one of the top midfielders globally. He also played a significant role in Sevilla's triumph in the UEFA Europa League, contributing to both the team's cohesion and strategic play on the field.
Rakitić's professional career is marked by collaborations and associations with notable figures in football. This includes working with internationally recognized coaches like Unai Emery and Luis Enrique. He shared the pitch with football giants like Lionel Messi, Neymar, Andres Iniesta, Sergio Busquets, Gerard Piqué, Dani Alves, and Luis Suárez during his time at Barcelona. Additionally, his time in Sevilla saw him interact with distinguished players such as Jesús Navas and Federico Fazio.
His contributions to football have not gone unnoticed, as he has been the recipient of numerous prestigious awards. For example, he was named the best player in the UEFA Europa League in the 2013-14 season, demonstrating his undeniable skills and effectiveness on the field. In 2015, after helping Barcelona secure the treble, Rakitić received the UEFA Champions League Squad of the Season honor.