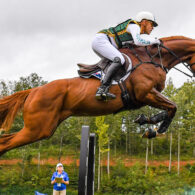 Championship Horses
Andrew Hoy's equestrian journey began with Ginger, a chestnut Shetland pony that sparked his passion for riding. His first Pony Club horse was Davey, a former racehorse from a Texas cattle station, who traveled over 1800 kilometers due to a Queensland drought before becoming Hoy's partner. Together, they competed in two Olympic Games, two World Championships, and secured a Burghley Title. Darien Powers, the 'great grey wonderhorse', known for his seemingly effortless performances on the toughest cross-country courses, won two Olympic Gold Medals with Hoy. Swizzle Inn, named after a pub in Bermuda, started as a "catch ride" but proved his worth by winning an Individual Silver Medal at the 2000 Sydney Olympics. Master Monarch, one of Hoy's legendary 4* winners, was known for his never-ending will to perform, while Mr Pracatan, the 'ultimate doer', was part of the Australian team at the 2004 Athens Olympic Games and a champion of the Luhmühlen International Horse Trials. 2006's hero Moonfleet won Badminton and finished second at Burghley, while Gershwin, a lucky "catch ride", partnered Hoy in the 1996 Olympic Games after claiming the title at Luhmühlen International Horse Trials. Finally, Algebra, a horse Hoy trained and managed for years, stayed with him to continue his career at the top level for three years until his healthy retirement to Australia.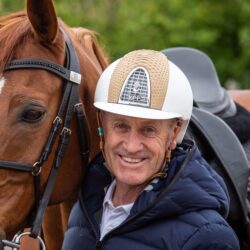 Birthday
February 8, 1959 (64)
Andrew Hoy is a distinguished Australian equestrian and Olympian, best known for his numerous triumphs in eventing on the international stage.
Andrew Hoy's illustrious career in eventing is filled with numerous awe-inspiring moments and unforgettable achievements. Most notable is his relentless performance in the Olympic Games, a stage on which he has showcased his skills remarkably. Hoy represented Australia in an impressive eight Olympic Games between 1984 and 2012, delivering exceptional performances each time. His excellence at the Games saw him bring home a total of three gold medals and one silver, with two of those gold medals won during the team eventing competitions in Barcelona (1992) and Atlanta (1996), and the silver at Sydney in 2000.
Over the years, Hoy's talent on the saddle has led him to rub shoulders with some of the most influential figures in equestrian sports. Among these are his long-time teammates, Stuart Tinney and Phillip Dutton, with whom he shared the Olympic podium in Sydney. Other significant collaborations include equestrian experts like Gillian Rolton, Wendy Schaeffer, and Matt Ryan. Together, they have formed the backbone of Australia's team eventing prowess for years. Outside the competition arena, he has also worked with iconic horse trainers like William Micklem and celebrated equestrian event organizers like Alec Lochore.
Throughout his career, Hoy's exceptional skills and determination have earned him significant recognition in his field. In addition to his Olympic gold and silver medals, he has won four Badminton Horse Trials, one of the world's most prestigious and demanding three-day event competitions. Hoy's triumph at the Badminton Horse Trials not only positioned him as a top equestrian but also as a master of discipline, courage, and determination. He has also been crowned champion of the Burghley Horse Trials, another globally renowned eventing competition, a total of three times.
In spite of his resounding success in competitive equestrian sports, Andrew Hoy's love for animals extends beyond the racing tracks. His affinity for horses, in particular, has seen him commit to their welfare and well-being. He is actively involved with The Brooke, an international animal welfare organization dedicated to improving the lives of working horses, donkeys, and mules. His association with the organization has allowed him to leverage his influence in promoting the rights and welfare of these hardworking animals.