 Birds and Fish (Bird)
In 2011 at around 20 years old, Charles Oliveira pocketed $40,000 USD after a win against Darren Elkins in September. After taking home the win, Oliveira spent his money on what young people sometimes spend money on, he purchased a fish aquarium, some calopsita birds, a couple of parrots (with particularly vertical crests), a dog, and an assortment of other small animals for around the house.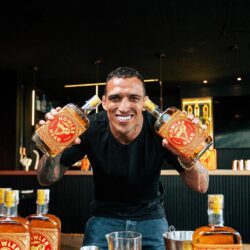 Birthday
October 17, 1989 (34)
Charles Oliveira is a Brazilian mixed martial artist, recognized internationally for his significant impact on the Ultimate Fighting Championship (UFC) in the lightweight division.
Known for his dynamic fighting style and technical prowess, Oliveira's most notable bouts have come within the octagon of the UFC. His grappling abilities, along with his striking acumen, have led him to many remarkable victories, cementing his reputation as a formidable contender. One such prominent encounter was his match against Michael Chandler at UFC 262, where he seized the Lightweight Championship title after an impressive second-round TKO.
Throughout his career, Oliveira has shared the cage with a plethora of high-profile fighters, contributing to his broad recognition within the mixed martial arts community. Notable competitors include Tony Ferguson, known for his unique style and tenacity, and Kevin Lee, a highly talented striker. Other adversaries of significance include Paul Felder, Clay Guida, and Jim Miller, each renowned fighters within the UFC. His most recent collaborations include matches against Dustin Poirier, Conor McGregor, Justin Gaethje, and Khabib Nurmagomedov.
In terms of achievements, Oliveira has a plethora of distinctive honours to his name. He holds the record for the most submission wins in UFC history, illustrating his exceptional grappling skills. He also won the Performance of the Night award numerous times, a testament to his extraordinary ability to captivate audiences with his engaging fighting style. His crowning achievement, however, came in 2021 when he won the UFC Lightweight Championship, attesting to his dominance in this weight class.
Outside of the ring, Oliveira is known for his compassionate nature, particularly when it comes to animal welfare. He is involved with various animal rescue organizations in his home country, Brazil. A well-known example is his support for the "Pets of the Favela" initiative, aimed at providing care and assistance for animals living in underprivileged urban areas.