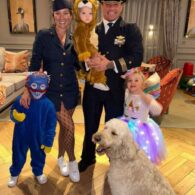 Poodle Mix
After losing his beloved Hugo in October 2021, Conor McGregor shared a Halloween family photo in October 2022 with a new dog. It's believed this Poodle mix is his dog as it appears with his family and no one else, but it's unconfirmed. This photo he posted has since been removed from his Instagram, with no other posts or mentions of the dog since.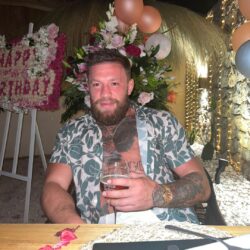 Birthday
July 14, 1988 (34)
Conor Anthony McGregor is also known as Notorious in the MMA industry. He's known for being an Irish professional mixed martial artist signed to the Ultimate Fighting Championship. He is famous for being the reigning UFC Lightweight Champion and the former UFC Featherweight Champion, as well as for his public persona. McGregor is also known for being the first UFC fighter to hold titles in two weight divisions at the same time, as well as the biggest draw in UFC pay-per-view history. He was born on July 14, 1988 and is worth an estimated $35 million.
Conor McGregor History
Conor McGregor began kickboxing at 12 years old and moved on to boxing where he became an All-Ireland boxing youth champion. He had his first amateur mixed martial arts match in February 2007, winning by TKO. This led to him being signed as a professional MMA fighter. IN 2013, he was signed into the UFC. His most famous fights include winning against Chad Mendes at UFC 189, winning against Jose Aldo at UFC 194, losing to Nate Diaz at UFC 196, winning against Nate Diaz at UFC 202 and winning against Eddie Alvarez at UFC 205.
He is most known for promoting a boxing match between him and the undefeated and retired boxer Floyd Mayweather Jr, set to take place late in 2017.
Conor McGregor Pets
Conor McGregor's not the kind of man you imagine crying, but, even for one of the toughest people on the planet, losing a pet is heartbreaking. Hugo McGregor, Conor's oldest dog, passed away in 2021. McGregor took to Instagram to lament his fallen pet. "So heart broken to say my dog Hugo has passed away," Conor wrote in the caption. "He was with me all the way, my closest companion. From sleeping on a bed frame without a mattress to everything else that came after. Thank you for all the work put in alongside me to get this life correct for our family. All the love and cuddles we will miss forever and ever our Hugo! Gutted 💔 RIP the best boy Hugo McGregor 🙏"

Rest in peace, Hugo McGregor. You were a very good boy.
Hugo is survived by his dog brother, Benjamin, and his three human-siblings, Conor Jack McGregor Jr., Croia McGregor, and Rian McGregor, and his parents, Dee Devlin and Conor McGregor.