 No Pets (Bert McCracken)
Bert McCracken does not have any reported pets.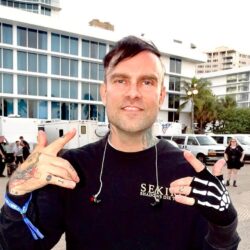 Birthday
February 25, 1982 (41)
Bert McCracken is an American musician, best known as the lead vocalist and pianist for the rock band The Used.
In his musical journey, McCracken has been part of several albums and popular works that have won over rock music enthusiasts. The Used's debut album in 2002 helped put them on the map, with McCracken's unique vocal style resonating with fans. His distinct sound has been a key feature in subsequent albums such as "In Love and Death" (2004) and "Artwork" (2009).
McCracken has not only been recognized for his musical talents but has also been a part of collaborations with various influential artists. His partnerships include working with Gerard Way (My Chemical Romance), John Feldmann (Goldfinger), Mark Hoppus (Blink-182), Travis Barker, Maja Ivarsson (The Sounds), Kelly Osbourne, Patrick Stump (Fall Out Boy), William Control, Shaun Lopez (Crosses), and Shavo Odadjian (System of a Down).
His achievements and recognitions include The Used's album "In Love and Death" going platinum in the United States and Australia. Furthermore, "The Canyon" (2017) was nominated for the Independent Music Award for Best Indie/Alternative Album.