Komondor Dog from the Odelay Album Cover
A Komondor dog is featured on the cover of Beck's iconic 1996 album Odelay. The dog wasn't Beck's and was owned by a Hungarian doctor. Komondors are a rare breed of Hungarian sheepdog that is known or their dreadlock-like fur. Beck's art director, Robert Fisher, explained the cover in a 2011 Mental Floss article.
The photo was taken by a famous dog photographer called Ludwig, who lived a few blocks from the office. She was in her late seventies, and was enthusiastic to have a visitor. Beck felt that it was kind of ambiguous, unrelated to the music, and was chosen almost at random. The viewer could read into the cover whatever they wanted. Odelay also sounded a bit like a dog command.

Robert Fisher, Beck's art director, 2011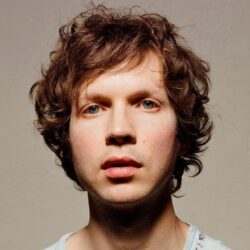 Birthday
July 8, 1970 (53)
Beck Hansen, commonly known simply as Beck, is an influential American musician celebrated for his eclectic style and experimentation across various musical genres, from alternative rock to hip-hop.
Beck's discography is as diverse as it is expansive. His 1994 lo-fi, anthemic single "Loser" from the album Mellow Gold catapulted him to international stardom, marking the start of a prolific career. This was followed by other remarkable albums like Odelay, which flaunted hits such as "Where It's At" and "Devil's Haircut". Beck's ability to seamlessly blend various musical styles became evident with albums like Sea Change, a more melancholic departure from his earlier works, and the funky Midnite Vultures. His experimentation and audaciousness in music continued to charm fans and critics alike with releases like Morning Phase and Colors.
Throughout his musical journey, Beck has collaborated with a myriad of artists and producers. He worked with the Dust Brothers, the production duo behind several tracks on Odelay. Renowned artist Pharrell Williams co-produced several tracks on the album Hyperspace. Beck has also shared the stage and studio with artists like Jack White, Jenny Lewis, and Charlotte Gainsbourg, each collaboration adding a unique flavor to his musical concoctions. Notably, his team-up with Dolly Parton for a rendition of "I'm So Lonesome I Could Cry" showcased the vast spectrum of his musical range and interests. Beck's commitment to his craft has been recognized multiple times. He has bagged several Grammy Awards, including the prestigious Album of the Year for Morning Phase in 2015.