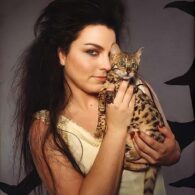 Cats
Amy Lee also had a cat named Fievel. She found him in a ditch, and he lived with her family.
Amy later had a cat named Zero, until it met a coyote.
Amy owned a Bengal cat in the mid-2000's.
Amy most recently had two cats: Stella and Shermie. It's unknown what happened to Stella, but Shermie passed away at the age of 18 in November 2021.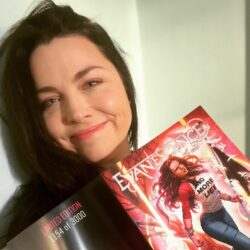 Birthday
December 13, 1981 (41)
Amy Lee is an American singer, songwriter, and pianist, best known as the co-founder and lead vocalist of the rock band Evanescence. She is known for her powerful and emotive voice, as well as her dynamic stage presence. Lee has written and co-written many of Evanescence's hit songs, including "Bring Me to Life," "My Immortal," and "Going Under." She has also released solo work and collaborated with other artists. Lee's music has been described as a mix of rock, metal, and classical, and has won her numerous awards and accolades throughout her career.
Amy Lee's powerful voice and evocative lyrics have forged a formidable partnership with many industry icons, weaving a rich tapestry of collaborative endeavors. The release of Evanescence's debut album "Fallen" in 2003 was a landmark in Lee's career, the album boasting co-production by music veteran Dave Fortman, who brought his experience with hard rock bands like Slipknot to the table. The synergistic alliance of Fortman and Lee birthed hits like "Bring Me to Life" and "My Immortal", which remain synonymous with Evanescence's hauntingly melancholic sound. A few years later, in 2007, Korn's Jonathan Davis added a distinctive layer to Lee's emotional intensity in the band's live performances, their "Freak on a Leash" duet becoming a memorable example of two powerhouse voices combining. Later, she partnered with composer Dave Eggar in 2012 for her self-described passion project, "Aftermath", a departure from her gothic rock roots into more experimental territory. The year 2020 marked a significant milestone in her career when she collaborated with the lauded body paint artist, Paul Roustan, for the music video of "Use My Voice", a stirring protest anthem. This venture saw her unite with several other female powerhouses in the music industry, including Lzzy Hale, Taylor Momsen, and Sharon den Adel.
Through her impactful partnerships and solo ventures, Lee has amassed a distinguished set of recognitions. "Fallen" earned a Grammy in 2004 for Best New Artist, validating the band's innovative blend of gothic rock and nuanced melodies. The haunting ballad "My Immortal" garnered a nomination for Best Pop Performance by a Duo or Group with Vocals the following year. In 2012, Lee's experimental project "Aftermath" was widely appreciated for its avant-garde sound, and the album's opening track, "Push the Button", received a nomination at the Independent Music Awards for Best Song – Dance/Electronica category. Fast-forward to 2020, when "Use My Voice" was nominated for Best Rock Performance at the Grammys.