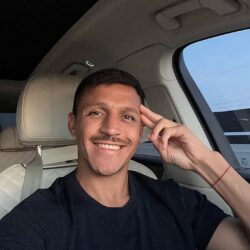 Birthday
December 19, 1988 (34)
Alexis Sánchez is a Chilean professional footballer, recognized globally for his consistent performances in some of the world's most prestigious football clubs and the Chilean national team. His distinct speed, skillful ball control, and goal-scoring acumen have carved his name into the annals of football history.
Sánchez's career catapulted to international fame during his time at Udinese Calcio in Italy. His success there caught the eye of FC Barcelona, one of the top clubs in the world, which signed him in 2011. Alexis's contributions were instrumental in Barcelona's victorious campaigns in La Liga, the Copa del Rey, and the FIFA Club World Cup. In 2014, he moved to Arsenal FC in the English Premier League, where he delivered sterling performances, including an FA Cup win in 2015. Sanchez's next career moves took him to Manchester United and Internazionale.
Throughout his career, Sánchez has played alongside some of the biggest names in football. He shared the field with Lionel Messi and Andres Iniesta at Barcelona, creating a formidable attacking trio. At Arsenal, he formed a dynamic partnership with Mesut Özil, contributing to the team's success during his tenure. With Chile, his collaborations with Arturo Vidal and Gary Medel were key in their Copa América victories in 2015 and 2016. Other notable teammates throughout his career include Zlatan Ibrahimović, Romelu Lukaku, Paul Pogba, Anthony Martial, Pierre-Emerick Aubameyang, and Aaron Ramsey.
Sánchez's excellence on the pitch has earned him numerous distinctions. In 2015 and 2016, he was named the Arsenal Player of the Season. His performances in the Copa América also earned him recognition as he was awarded the Player of the Tournament in 2016. During his stint with Manchester United, he scored his first goal for the club in the FA Cup, marking a significant achievement in his career.