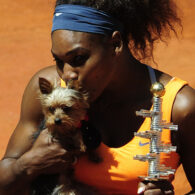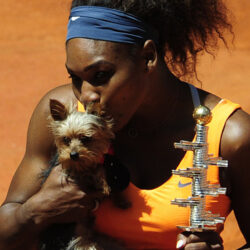 Chip Williams
When Serena Williams dog, Chip, isn't wrapped in hotel towers or sampling personally prepared gourmet dog food, he's flying around the world attending Wimbledon, or another tennis tournament. The life of a companion to a world champion tennis player requires travelling around the globe and Chip just happens to be the perfect size. He's able to fit under the seat, and effectively fly to any country.
Here's a video of Chip Williams attending her Rome 2016 match vs Anna-Lena Friedsam.
An American tennis player, Serena Williams born September 26, 1981 is the youngest of 5 daughters. Along with her sister Venus, the Williams sisters went on to collectively win 14 Grand Slam doubles titles. On her own, she has a total of 22 Grand Slam titles. Williams was the highest paid female athlete in 2016, earning $28.9 million in prize money and endorsements.