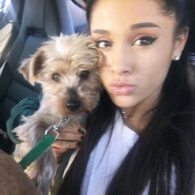 Strauss
The 7th dog to join the Grande clan, Ariana adopted Strauss on 7th October 2015, in Tulsa, Oklahoma. Before Ariana Grande's concert at BOK Center. Grande got a surprise meet and greet with eight dogs from ARF Tulsa, the Animal Rescue Foundation of Tulsa. Ariana instantly fell in love with Strauss and ended up adopting him.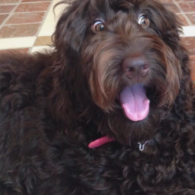 Ophelia
No pet posse is complete without some very family but slightly unique popular mix breed like a chocolate Labradoodle. When asked why Ariana named her "Ophelia", she says, "A friend suggested it, I thought it was funny because it sounded like an old queen, you know? It sounded proper and old and kind of funny."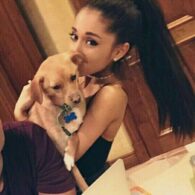 Toulouse Grande
Most people search for Toulouse Grande's net worth when they think of Ariana Grande's little pup. He has an estimated $1,500,000.00 net worth and he has been living the high life with his superstar mum, travelling on private jets and staying in posh hotels in Europe. Much like most celebrity pets, Toulouse has his own Instagram page. This one is shared with her other friends Ophelia and Coco. Thanks to the massive popularity of Ariana Grande, this pet has more followers than all my friends with over 93K fans. He gets his name from the beige kitten in Disney's The Aristocats.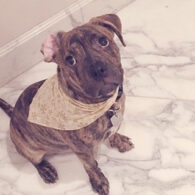 Cinnamon
Adopted in December of 2014, Cinnamon is an adorable rescue owned by Ariana Grande. "She was found in a box on the side of the street a few months ago & has been living in a rescue ever since," wrote Ariana. "Now she lives with me & my other babies! She will be safe, spoiled and loved unconditionally! Absolutely shatters my heart how somebody could toss an innocent creature aside like that."
"Nothing hurts my heart more. We love you so so much Cinnamon. Welcome to the Grande family my babe #adopt."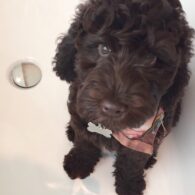 Sirius
One of the latter to join the Grande clan, Sirius is named after one of her favorite Harry Potter characters. He made his grand appearance on her Instagram with the comment, "Sirius Black newest member of the puppy posse … the puppy breath is out of this world. I am going to be the Edie Beale of dogs (sic)." Sirius has been living the high life with his superstar mum, travelling on private jets and staying in posh hotels in Europe.
Dalton Gomez, born in 1993, is an American Real Estate Agent, Sole Buyers Agent, and Celebrity Partner from Southern California. In March 2020, he gained international attention after coming out on the internet as a partner of Ariana Grande. He later married her in 2021.