 No Pets (Zack de la Rocha)
Zack de la Rocha does not have any reported pets.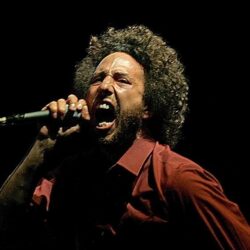 Birthday
January 12, 1970 (53)
Zack de la Rocha is an American musician and activist best known as the vocalist and lyricist of the rock band Rage Against the Machine.
De la Rocha's career catapulted to the forefront of the music industry with the success of Rage Against the Machine's self-titled debut album in 1992. The band's blend of hard rock, punk, and hip-hop, along with de la Rocha's impassioned vocals, struck a chord with audiences. Their subsequent albums, "Evil Empire," "The Battle of Los Angeles," and "Renegades," further cemented their impact, with tracks like "Bulls on Parade" and "Killing in the Name" becoming anthems for dissent.
Throughout his career, de la Rocha has collaborated with a host of artists across various genres. He worked with KRS-One and Last Emperor on the track "C.I.A. (Criminals In Action)." His partnerships extend to artists like Questlove, Trent Reznor, and DJ Shadow. De la Rocha also joined forces with Chuck D, Cypress Hill's B-Real, and Public Enemy for the supergroup Prophets of Rage. Notable collaborations in the studio include working with producers Rick Rubin and Brendan O'Brien, as well as musicians like Brad Wilk, Tom Morello, and Tim Commerford.
De la Rocha's work with Rage Against the Machine earned the band multiple awards and nominations, including Grammys for Best Metal Performance for "Tire Me" and Best Hard Rock Performance for "Guerrilla Radio." The band's influence and de la Rocha's contributions were recognized when they were inducted into the Rock and Roll Hall of Fame.