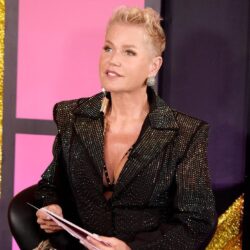 Birthday
March 27, 1963 (60)
Xuxa, often referred to as the "Queen of the Little Ones," is an influential Brazilian television presenter, film actress, and pop singer who gained international prominence through her children's television show, 'Xou da Xuxa'. A household name in Brazil, she continues to be a powerful force in the entertainment industry and a champion for animal rights.
Making her mark on the Brazilian entertainment industry in the mid-1980s, Xuxa's breakthrough came with the television series 'Xou da Xuxa'. The show, a unique mix of child-oriented skits, games, and musical numbers, became an unprecedented hit, reaching audiences not just in Brazil, but throughout Latin America and beyond. Additionally, Xuxa's venture into cinema, particularly with films like 'Super Xuxa Against Baixo Astral' and 'Xuxa and the Elves', further solidified her fame, providing fun, wholesome entertainment for children. As a pop singer, she released more than 20 studio albums, some of which, like "Xou da Xuxa 3," have become the best-selling albums in Brazilian history.
Throughout her career, Xuxa's projects have frequently brought her into collaboration with other celebrities and influential individuals. For instance, her television show welcomed guest stars from different spheres of the entertainment industry, including the likes of Fausto Silva, Angélica, and Eliana. On the musical front, she collaborated with major Latin artists such as Sérgio Mallandro, Mara Maravilha, and Chitãozinho & Xororó. In film, she worked with respected actors like Guilherme Karan, Nair Bello, and Duda Little. Furthermore, Xuxa's international outreach has led her to collaborate with world-renowned figures like the pop band Menudo and the beloved children's characters The Muppets.
In recognition of her work, Xuxa has received numerous distinctions and titles. In 1988, she received the Troféu Imprensa for Best Children's Program, an award she would win several times in subsequent years. Her music, an integral part of her brand, has also been well received, with albums such as "Xou da Xuxa 3" and "4th Xou da Xuxa" earning her the Prêmio Sharp for Best Children's Album. Xuxa's films have not been overlooked, with 'Xuxa Requebra' winning the Prêmio Contigo for Best Children's Film.