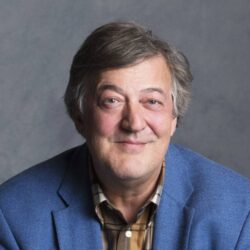 Birthday
August 24, 1957 (65)
Stephen Fry is a renowned British comedian, actor, writer, and presenter known for his wit, intellect, and charm. He has been involved in the entertainment industry for over four decades and has achieved numerous accolades throughout his career.
Fry was born in Hampstead, London, and attended Queens' College, Cambridge, where he was a member of the renowned Cambridge Footlights. His talent for comedy and acting was soon recognized, and he went on to become a regular on the BBC comedy series "Blackadder," where he played the character of Lord Melchett.
In addition to his work on "Blackadder," with Rowan Atkinson, Fry has appeared in numerous other television shows and movies, including "A Bit of Fry and Laurie," with Hugh Laurie, "Jeeves and Wooster," "Gosford Park," and "V for Vendetta." He has also lent his voice to several animated films, such as "The Little Prince" and "Alice in Wonderland."
Fry is also an accomplished writer, having authored several novels, including "The Hippopotamus," "Making History," and "The Stars' Tennis Balls." He has also written several plays and screenplays, as well as numerous articles and essays.