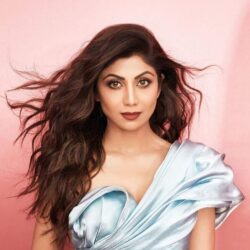 Birthday
June 8, 1975 (48)
Shilpa Shetty Kundra is a beloved Indian actress and entrepreneur, revered for her dynamic career in Bollywood and her significant contributions to the Indian television industry.
Kundra's film journey began with her debut in the thriller Baazigar (1993) where she starred alongside Bollywood heavyweights such as Shah Rukh Khan and Kajol. The movie was a major commercial success and marked the beginning of Kundra's journey towards stardom. Her performance in Dhadkan (2000) opposite Akshay Kumar and Suniel Shetty received critical acclaim, solidifying her position as a leading lady in Bollywood. In the realm of television, she garnered widespread attention for her appearance on the British reality show Celebrity Big Brother 5 (2007), which she ultimately won, bringing her international acclaim. Kundra's versatile presence also extends to being a popular judge on various reality shows including Super Dancer, enhancing her connection with diverse audiences.
Her successful career in film and television has been accentuated by memorable collaborations with numerous celebrated individuals. Shetty Kundra shared screen space with the iconic Amitabh Bachchan in the movie Lal Baadshah (1999), creating a memorable cinematic experience for her fans. Her cinematic journey has seen collaborations with acclaimed director Dharmesh Darshan in Dhadkan, and Priyadarshan in Bhagam Bhag (2006). On the television front, she has worked closely with famous choreographers like Geeta Kapoor and Anurag Basu on the Super Dancer series. In the world of fitness and wellness, she has collaborated with prominent health expert Luke Coutinho to co-author the book, The Great Indian Diet.
Kundra's work in the entertainment industry has earned her numerous recognitions. She won the Indian Television Academy Award for Best Reality Show Judge in 2019 for Super Dancer. Following her victory on Celebrity Big Brother, she was honored with the Silver Star Award for her contribution towards enhancing Indo-British ties. Her role in the film Phir Milenge (2004) won her several nominations at various award ceremonies, demonstrating her ability to convey impactful messages through her performances.
An ardent advocate for animal welfare, Kundra has actively expressed her love for animals and has consistently used her influential status to raise awareness about various related issues. She has been associated with PETA and has participated in several campaigns promoting the adoption of animals, and advocating against animal cruelty.