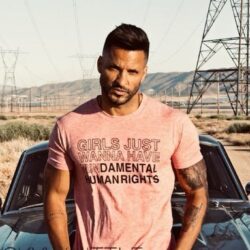 Birthday
December 31, 1979 (43)
Ricky Whittle is an English actor, best known for his roles in the British soap opera "Hollyoaks" and the American fantasy drama series "American Gods."
Whittle's career gained significant traction in the United Kingdom with his role as Calvin Valentine on the popular soap opera "Hollyoaks," which aired from 2006 to 2011. After garnering attention on British television, he made the jump to American screens, landing roles in various TV shows such as "Single Ladies," "Mistresses," and most notably, as Shadow Moon in "American Gods," based on Neil Gaiman's novel of the same name.
Over the years, Whittle has worked with a slew of artists, celebrities, and influential figures. In "Hollyoaks," he worked with Emma Rigby and Jamie Lomas, while his move to American television brought him into contact with actors like Stana Katic on "Castle" and Alyssa Milano on "Mistresses." His role in "American Gods" allowed him to collaborate with a more diverse cast, including Ian McShane, Emily Browning, Pablo Schreiber, Yetide Badaki, Bruce Langley, and Crispin Glover. Beyond television, Whittle has participated in panels with author Neil Gaiman, fostering a deeper understanding of the world of "American Gods."
In 2010, Whittle was nominated for "Sexiest Male" at the British Soap Awards for his role in "Hollyoaks." The show "American Gods," in which he played a pivotal role, also received several award nominations, including at the Saturn Awards and the Critics' Choice Television Awards.