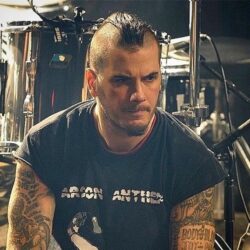 Birthday
June 30, 1968 (55)
Phil Anselmo is an American musician best known for his work as the lead vocalist for the heavy metal band Pantera. A versatile artist, Anselmo's vocal range is often cited as one of the most powerful in heavy metal. He gained prominence during the 1990s, a decade known for the diversification and popularization of metal music.
Anselmo's career has been prolific, to say the least. His initial spotlight came with Pantera, whose albums "Cowboys from Hell," "Vulgar Display of Power," and "Far Beyond Driven" remain landmarks in the heavy metal genre. However, his artistry didn't stop there. He also spearheaded projects like Down and Superjoint Ritual, which showcased his love for sludge metal and hardcore punk, respectively.
Anselmo is no stranger to collaborations, often stepping outside the confines of his principal projects. He has worked closely with other industry giants including Tony Iommi of Black Sabbath, Dimebag Darrell, Vinnie Paul, Rex Brown, Pepper Keenan, Jimmy Bower, Kerry King of Slayer, Rob Halford of Judas Priest, Bruce Corbitt, and Max Cavalera of Sepultura.
Over the years, Anselmo has earned several honors that mark his significant contributions to heavy metal music. He received the Metal Hammer Golden God award in 2011 and his band Pantera has been nominated for Grammys. Moreover, albums like "Far Beyond Driven" debuted at number one on the Billboard 200, a feat almost unheard of for a heavy metal band at the time.