 No Pets (Paolo Nutini)
Paolo Nutini does not have any reported pets.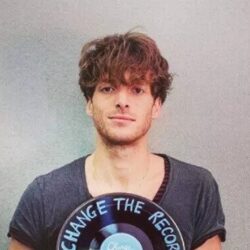 Birthday
January 9, 1987 (36)
Paolo Nutini is a Scottish singer-songwriter, recognized for his captivating blend of soul, rock, and folk genres. Emerging from the tranquil town of Paisley, Nutini has woven a distinct mark on the music scene, generating a rich tapestry of unique sounds and heartfelt lyrics.
Following his graduation from St. Andrew's Academy, Nutini released his debut album "These Streets" in 2006, which charted at number three in the UK Albums Chart. His second album, "Sunny Side Up," secured the top spot in 2009 and remained on the charts for a staggering 196 weeks. This eclectic collection featured chart-topping singles "Candy" and "Coming Up Easy," securing Nutini's position as a powerful force in music. His third album, "Caustic Love," released in 2014, was critically acclaimed, lauded for its nuanced exploration of love, heartbreak, and political activism.
Throughout his music journey, Paolo Nutini has partnered with an array of renowned artists across a variety of genres. He has performed alongside the legendary Amy Winehouse at the Eden Project's Eden Sessions and graced the stage with Led Zeppelin's iconic frontman, Robert Plant, at the Electric Proms. His career also highlights significant collaborations with acclaimed solo artist David Byrne, Mick Jagger and Keith Richards from The Rolling Stones, Ricky Wilson of The Kaiser Chiefs, Luke Pritchard of The Kooks, and Irish songstress Imelda May. Furthermore, Nutini's track "Let Me Down Easy" incorporates a sample from a song by the soulful Bettye LaVette, illustrating his talent for harmoniously fusing modern sounds with classic soul.
Over the course of his career, Nutini has earned a number of prestigious awards. His second album, "Sunny Side Up," won the Best Album award at the 2010 Ivor Novello Awards. Later, in 2015, he secured the Tartan Clef Award for his significant contributions to the Scottish music industry. Notably, Nutini's "Caustic Love" was declared the best UK album of 2014 by MOJO Magazine.