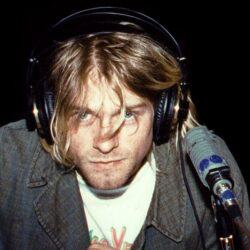 Birthday
February 20, 1967 (55)
Kurt Cobain was an American singer, songwriter, and musician. Cobain was an avid animal lover and even considered opening a petting zoo. He was especially known for loving cats but openly disliked dogs (gasp!), even stating in an interview "I can't stand dogs for some reason…they're just too willing to please." He proved his love for felines by having a few in his care over the years and many photos with them in his documentaries. He was the frontman, guitarist, lead vocalist, and primary songwriter of the rock band Nirvana. His untimely death in 1994 shocked and saddened the world as he was widely accepted as a voice of Generation X and creator of the "grunge" music genre.
Cobain is considered to be one of the most influential musicians in the history of alternative rock and was posthumously inducted into the Rock and Roll Hall of Fame. Rolling Stone also included Cobain in its lists of the 100 Greatest Songwriters of All Time, 100 Greatest Guitarists, and 100 Greatest Singers of All Time.
During the last years of his life, Cobain struggled with addiction and chronic health problems such as depression. He also struggled with the professional pressures of fame, and personal challenges with his destructive relationship with his wife Courtney Love.
Kurt Cobain has a daughter, Frances Bean Cobain, with Courtney Love.