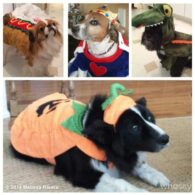 Rescue Dogs
Joan Rivers had four rescue dogs when she passed away and was a life-long advocate for animal rights and dog adoption. Her dogs' names are Samantha, a Habanese, Teegan, a Japanese Chin, Lola, a Jack Russell, and Mikey, a Border Collie. Lola and Mikey lived at her home in Los Angeles and Sam and Teegan lived at her New York City home. In her will, Rivers left some of her $150 million fortune to her dogs. Rivers' daughter Melissa posted this Halloween photo on Instagram of the dogs with Teegan as a hotdog, Lola as a princess, Sam as an alligator, and Mikey as a pumpkin.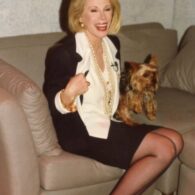 Spike
Spike was Joan Rivers' most famous canine companion. This Yorkshire Terrier was known to be grumpy but always got along with Rivers as they traveled the world together. Spike lived until the age of 17, passing away in 2001. When Rivers' husband tragically passed away in 1987, she contemplated suicide but credited Spike with saving her. After Rivers' passed away and many of her notable passions sold at auction, Spike's engraved sliver dog bowl, made by Tiffany & Co, sold for $13,750.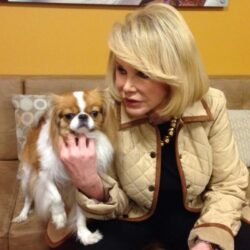 Birthday
June 8, 1933 (89)
Joan Rivers was an American stand-up comedian, actress, author, and television host. She was born in Brooklyn, New York, and began her career in stand-up comedy in the early 1960s. Rivers was the first woman to host her own late-night talk show, The Late Show with Joan Rivers, and she was a regular guest panelist on the British panel show, QI.
Throughout her career, Rivers worked with many famous actors, musicians, and comedians, such as Billy Crystal, Robin Williams, and Richard Pryor. She was a regular guest on the late-night talk show circuit, appearing on shows such as The Tonight Show Starring Johnny Carson, The Late Show with David Letterman, and The Howard Stern Show. Rivers was also the host of the TV Land Awards, and she won a Daytime Emmy in 1990 for Outstanding Talk Show Host.
In addition to her comedy career, Rivers was an author, writing several books such as Bouncing Back: I've Survived Everything…and I Mean Everything and I Hate Everyone…Starting with Me. She was also a fashion designer, launching a successful clothing line at QVC.
Rivers was a strong advocate for animal rights, and she adopted several dogs. Rivers was especially passionate about rescuing dogs, and she was honored with the Humane Society of New York's "Outstanding Contribution to Animal Welfare" award in 2006. Joan Rivers will be remembered as one of the most influential stand-up comedians of all time, and her legacy will live on through her work with animals and her charity work. She passed away in September 2014.