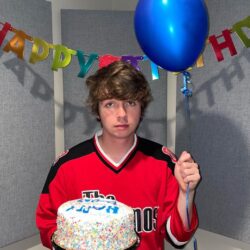 Birthday
July 19, 1998 (25)
Karl Jacobs is an American internet personality and content creator, best known for his roles in the Dream SMP, the MrBeast crew, and his own Twitch streams. From Minecraft gaming to intricate tales spun on the Dream SMP server, Karl Jacobs has significantly diversified his online presence. Engaging millions of fans on platforms like Twitch, YouTube, and social media, he has become a recognized name in the internet arena.
His early affiliation with the MrBeast crew allowed him to gain significant visibility, featuring in various popular challenge videos. Simultaneously, his activity on the Dream SMP—a Minecraft server with a compelling mix of role-playing, politics, and battles—has provided a platform for his creative storytelling. These two major spheres of influence have contributed to his widespread popularity, solidifying him as a key player in the content creation world.
Karl Jacobs has built an extensive network that includes some of the internet's most influential personalities. Among the individuals with whom he has collaborated are Jimmy Donaldson (MrBeast), Chandler Hallow, Chris Tyson, Dream, GeorgeNotFound, Sapnap, Wilbur Soot, Technoblade, Tubbo, and TommyInnit. Whether through the MrBeast crew's philanthropic initiatives or the ever-changing alliances and enmities on the Dream SMP.
The Dream SMP won the Gaming Creator of the Year award at the 10th Streamy Awards in 2020, reflecting the collective success of its members, including Karl. Moreover, his affiliation with the MrBeast crew, a group known for winning numerous Streamy Awards.