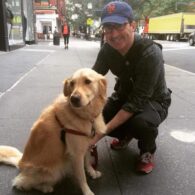 Hoagie (Dog)
John Oliver had a Golden Retriever mix named Hoagie that he adopted in 2012 (who he named after his favorite sandwich). Hoagie is the first dog Oliver has owned, with his only other pet being a childhood goldfish. Oliver thanks his wife Kate for helping him get over his fear of pet ownership and become a first-time dog dad. In 2017, John Oliver had a segment on his show where he demonstrated how he used a loophole created by Donald Trump for a property tax scam, which involved creating a shell company called Hoagie's Place LLC.
Getting a dog is like dipping your toe in the waters of responsibility. I'm more aware of when people need to go to the bathroom now and when they need to be stroked.

John Oliver, Vulture, April 2014 Goldfish (Fish)
John Oliver's first pet was a goldfish that he got when he was 7 years old.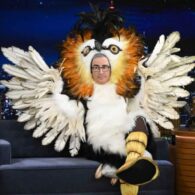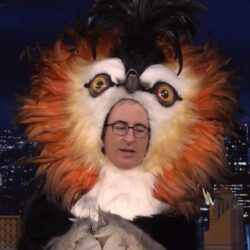 Birthday
April 23, 1977 (46)
John Oliver, a British-American comedian, writer, producer, political commentator, actor, and television host, has made a significant impact on both the UK and US entertainment landscapes. Best known for his incisive and satirical approach to news and current events, Oliver first gained widespread recognition on The Daily Show with Jon Stewart before branching out with his own acclaimed HBO series, Last Week Tonight with John Oliver. His career, characterized by a unique blend of humor and hard-hitting journalism, has solidified his status as a pivotal figure in modern television satire.
Oliver's journey in television has been marked by his work on several notable shows. After his initial stint on The Daily Show, which showcased his sharp wit and distinctive style, he took the helm of Last Week Tonight in 2014. This show, blending comedy and investigative journalism, quickly became a staple for viewers seeking both entertainment and insight. His impactful segments, often going viral, have addressed a wide range of topics from politics to social issues. Beyond these, Oliver has lent his voice to various characters in animated series and films, showcasing his versatility as a performer.
Collaboration has been a key aspect of Oliver's career. Working alongside Jon Stewart, he honed his skills and comedic voice. His partnership with HBO for Last Week Tonight has been critical to his success, allowing him a platform to delve into extensive research-backed segments. Oliver has also appeared with other notable figures in entertainment, including his guest-hosting stint on The Daily Show, which further expanded his reach. Additionally, his engagements with other comedians and personalities, like his memorable discourse with Stephen Colbert, have further cemented his influence in the world of comedy and political commentary.
Oliver's achievements are numerous. He has been the recipient of several Emmy Awards for his work on both The Daily Show and Last Week Tonight. These awards recognize his exceptional writing and overall excellence in late-night television. His impactful segments on Last Week Tonight have not only garnered critical acclaim but also influenced public discourse and policy on various occasions, demonstrating the power of satire blended with journalism.
As for his animal advocacy, John Oliver has occasionally touched upon animal rights and welfare issues in his shows, though he is not predominantly known for direct involvement with animal non-profit organizations or specific advocacy efforts. His approach to such topics aligns with his overall style—infusing humor and satire into serious discussions to raise awareness among his audience.