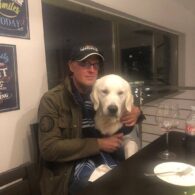 Beauregard
Joe Bonamassa posted with his sister and brother-in-law's dog, Beauregard, in November 2020 on Facebook. Clearly a fan of pets, Joe commented that he won't be adopting any pets of his own until his retirement.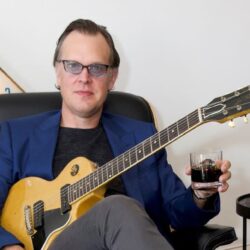 Birthday
May 8, 1977 (46)
Joe Bonamassa is an American blues rock guitarist, singer, and songwriter, celebrated for his riveting performances and extraordinary contributions to the realm of music. This New York native, propelled into fame as a guitar prodigy, would eventually evolve into one of the most influential artists of his time, steering the blues rock genre into the mainstream with a combination of stunning technical proficiency and raw, emotive power.
Bonamassa's illustrious career began as a young guitarist sharing the stage with the legendary B.B. King. Over the years, he has crafted a stellar discography, characterized by a rich tapestry of 15 solo studio albums that have firmly cemented his legacy in the blues rock pantheon. Each album is a testament to his eclectic musical tastes, straddling the boundaries of blues, rock, and even country. His releases such as "The Ballad of John Henry," "Blues of Desperation," and "Royal Tea" have been particularly acclaimed, illustrating his exceptional ability to infuse traditional blues with innovative modern sensibilities.
His collaborative works paint a picture of a versatile musician eager to explore uncharted territories. Bonamassa has collaborated with an impressive array of musicians, including Beth Hart, Derek Sherinian, and Paul Rodgers, each collaboration adding a new dimension to his artistry. His supergroup Black Country Communion, formed alongside Glenn Hughes, Jason Bonham, and Derek Sherinian, has released four albums, all met with critical acclaim. Rock Candy Funk Party, another of Bonamassa's collaborative projects, further showcases his versatility as he ventures into jazz-funk territory.
Recognition of his talent has been wide and varied, contributing to the high esteem in which he is held in music circles. Notably, Bonamassa has been nominated for two Grammy Awards, solidifying his stature in the music industry. He has received the Blues Music Awards 'Instrumentalist – Guitar' award three times and was crowned 'B.B. King Entertainer of the Year' at the 2015 Blues Music Awards. His DVD "Live from the Royal Albert Hall" was certified Platinum by the RIAA.