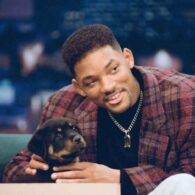 Indo, Gracie, Zhaki, Tyson (Dog)
Will Smith and his wife Jada Pinket Smith have four Rottweilers. The dogs' names are Indo, Gracie, Zhaki, and Tyson. These dogs also received training from Cesar Millan, who is a good friend with Jada and gifted her Indo. Jada took in one of the Rotwiellers from a friend. The other two were gifts to Will from Jay Leno. Rocco (Dog)
Jada Pinkett Smith had a dog named Rocco, who sadly passed away from a rattlesnake bite in 2014. After, Cesar Milan (who Jada is a good friend with) trained her and her dogs on how to avoid snakes and reptiles.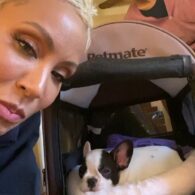 Bandit (Bandito) (Dog)
In 2020, for Jada Pinket Smith's 49th birthday, she was gifted a French bulldog puppy which she name Bandit, aka Bandito. This dog was a gift from her good friend and celebrity dog trainer Cesar Millan.
Birthday
September 18, 1971 (52)
Jada Pinkett Smith is an American actress, screenwriter, producer, talk show host, and businesswoman. She's best known for co-hosting the talk show Red Table Talk, which won her a Daytime Emmy Award. Her notable TV and film roles include A Different World (1991–1993), The Nutty Professor (1996), The Matrix Reloaded (2003), The Matrix Revolutions (2003), Gotham (2014–2016) and Girls Trip (2017).
Jada Pinkett Smith is married to Will Smith and have two kids together: Jaden and Willow. The couple also shares four Rottweilers.