 No Pets (Flavor Flav)
Flavor Flav does not have any reported pets.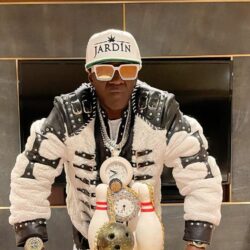 Birthday
March 16, 1959 (64)
William Jonathan Drayton Jr., better known by his stage name Flavor Flav, is an American rapper, television personality, and musician. He rose to fame in the 1980s as a member of the iconic hip-hop group Public Enemy.
Public Enemy's 1988 album "It Takes a Nation of Millions to Hold Us Back," is widely considered one of the greatest and most influential hip-hop albums of all time. The album features some of Flavor Flav's most memorable moments, including his famous "Yeah, boyee!" catchphrase.
Flavor Flav launched his solo career in 2006 with his debut solo album, "Flavor Flav," which featured collaborations with artists like Snoop Dogg and Redman. He followed up with several more albums over the years, including "Hollywood" and "Flavor Man."
Outside of music, Flavor Flav has also made a name for himself as a reality television star. He first appeared on VH1's "The Surreal Life" in 2004, where he became known for his zany antics and larger-than-life personality. He went on to star in several other VH1 reality shows, including "Flavor of Love," "Strange Love," and "The Flavor of Love Girls: Charm School."
Throughout his career, Flavor Flav has collaborated with a wide range of artists and celebrities including Chuck D, Ice-T, Beastie Boys, Kool Moe Dee, and MC Hammer. He has also worked with rock legends like Ozzy Osbourne and Kiss, and even appeared in a Pepsi commercial with Michael Jackson in the 1980s.