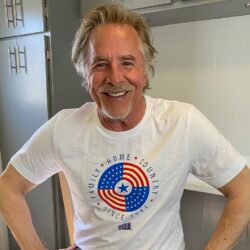 Birthday
December 15, 1949 (74)
Don Johnson is an American actor, producer, director, singer and songwriter. He played the role of James "Sonny" Crockett, in the 1980s television series Miami Vice, winning a Golden Globe for his work in the role. He also played the protagonist, Nash Bridges, in the 1990s series Nash Bridges. Johnson has appeared in films such as A Boy and His Dog (1975), Tin Cup (1996), Machete (2010), Django Unchained (2012) and Knives Out (2019).
As a singer, Johnson released albums Heartbeat (1986) and Let It Roll (1989). His cover version of "Heartbeat" peaked at No. 5 on the Billboard Hot 100.
Johnson received a star on the Hollywood Walk of Fame in 1996.
Don Johnson and Melanie Griffith are the parents of Dakota Johnson.