 Filly (Dog)
Coleen Nolan adopted a street dog named Filly from Macedonia in May 2022.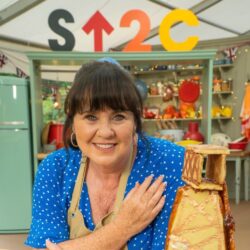 Birthday
March 12, 1965 (58)
Coleen Nolan is a singer, author, and television presenter, chiefly recognized for her musical venture as part of the Irish pop group The Nolans and her longstanding association with the daytime TV show "Loose Women."
A native of Blackpool, Nolan's artistic journey began with The Nolans, a family act where she, along with her sisters, earned fame in the late 1970s and early 1980s. Their discography is peppered with chart-topping hits like "I'm In the Mood for Dancing," which secured a prominent place on the UK Singles Chart. Transitioning from music to television, Nolan's on-screen presence became a staple of British daytime television, beginning with her involvement on "This Morning" and solidifying with her role on "Loose Women." Known for her candid, down-to-earth approach, Nolan has captivated audiences for decades.
Throughout her illustrious career, Nolan has rubbed shoulders with numerous influential figures. Her tenure on "Loose Women" alone has seen her collaborate with a multitude of co-hosts, including the likes of Ruth Langsford, Janet Street-Porter, Andrea McLean, and Sherrie Hewson. Furthermore, her participation in the 19th series of Celebrity Big Brother in 2017 exposed her to a new set of peers such as Kim Woodburn, James Cosmo, and Calum Best, among others. In the realm of music, she shared the stage with her sisters, including Anne, Denise, Maureen, Linda, and Bernie Nolan, creating an unforgettable familial harmony that continues to resonate with fans.
Nolan's achievements encompass both her musical and television career. During her stint with The Nolans, the group secured several Gold albums, further cementing their place in the UK pop scene. Later, her role on "Loose Women" saw her nominated for the TV Quick Awards' Best Daytime TV Show multiple times. Additionally, her venture into reality TV bore fruit when she emerged as the winner of Celebrity Big Brother in 2017, a testament to her broad appeal and relatability.