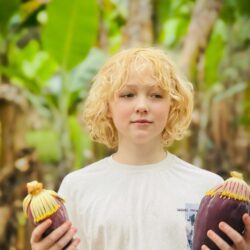 Birthday
November 10, ‎2009 (53)
Christian Convery is a Canadian actor, who captured audiences with his diverse roles in both television and film. Over a relatively short span, he has graced screens big and small, showcasing a range of emotions and proving that age is no barrier to talent.
With the spotlight on him early on, Christian impressed viewers with his performance in the television series "Pup Academy," where he played the lead character. This was only the tip of the iceberg, as he then starred in the film "Playing with Fire," alongside John Cena, adding another feather to his cap. But perhaps his most impactful role came with "Sweet Tooth," a post-apocalyptic fairytale series that resonated with both critics and fans alike.
Working with other celebrities has been an integral part of Christian's career. John Cena in "Playing with Fire" was just the beginning. His collaboration with Nonso Anozie in "Sweet Tooth" resulted in a magical on-screen relationship. Christian has also worked alongside powerhouse talents such as Josh Brolin in "Legacy of a Whitetail Deer Hunter," Dallas Howard in "Pete's Dragon," and Connie Nielsen in "Beautiful Boy." His versatility was further showcased when he shared the screen with Will Forte, Terry Crews, Neve Campbell, Martin Short, and even legendary actor Danny DeVito.
Christian's dedication to his craft has been recognized with numerous awards. He bagged the "Best Leading Young Actor" title at the Young Artist Awards for his role in "Pup Academy." The Young Entertainer Awards also celebrated his efforts by honoring him with the award for "Best Young Actor 12 and Under in a Streaming Series" for his role in "Sweet Tooth."