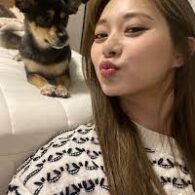 Kaya (Dog)
Tzuyu is the proud pet parent of a dog named Kaya and her pup, Butter. Both were adopted by Tzuyu and now share her living space in her dorm. When it came to naming her furry family members, Tzuyu wanted names that paired well together. Nayeon offered the idea of using names of things she enjoyed or various foods. Ultimately, Tzuyu settled on the names Butter and Kaya, inspired by Kaya toast, a popular breakfast dish from Singapore. This dish even got a shout-out during an episode of TWICE TV6 when the group visited a supermarket in Singapore.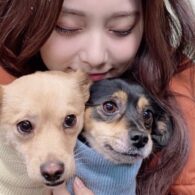 Butter (Dog)
Butter is one of Tzuyu's adopted dogs, living alongside her mother, Kaya, in Tzuyu's dorm. Seeking to give her pets names that naturally complement each other, Tzuyu considered Nayeon's advice to choose names based on things or foods she enjoys. Ultimately, Tzuyu named her canine companions Butter and Kaya, a nod to her favorite food, bread, as well as the jam that often accompanies it.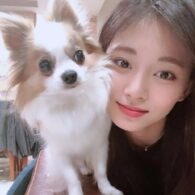 Gucci (Dog)
On September 23, 2020, Tzuyu shared a poignant update on TWICE's official Instagram account, revealing that her pet Gucci had passed away. She conveyed, "I had plans to visit a pet adoption center today, but Gucci departed from us yesterday afternoon. Thank you, Gucci, for the cherished memories you've given us. May you find peace and happiness in a better place. We'll keep you in our prayers."
Tzuyu is a Taiwanese singer primarily known for being a member of the South Korean girl group Twice under JYP Entertainment. She gained prominence after participating in the reality television competition "Sixteen," which led to her debut with Twice in 2015.
Tzuyu's career began to soar when Twice released their debut extended play (EP) titled "The Story Begins," which includes the hit single "Like Ooh-Ahh." Their subsequent releases like "Cheer Up," "TT," and "Fancy" have been commercial successes, establishing Twice as one of the top-selling K-pop acts. Tzuyu's ethereal vocals and captivating stage presence have significantly contributed to the group's success, making her an essential element of Twice's unique color.
Tzuyu has worked alongside various industry notables. Within the JYP Entertainment ecosystem, she has collaborated with artists like Park Jin-young, GOT7's JB, and Mark, Day6's Jae and Sungjin, and Stray Kids' Bang Chan and Lee Know. Beyond her label, Tzuyu has teamed up with other celebrities for various projects and performances, including singers like IU and Sunmi, and television hosts like Kim Heechul and Yoo Jae-suk.
Over the years, Tzuyu has been honored with several prestigious titles and distinctions. In 2019, Tzuyu ranked second in TC Candler's list of "The 100 Most Beautiful Faces," a recognition she received based on public votes. Furthermore, she was a recipient of the "Artist of the Year" award along with her group at the Mnet Asian Music Awards (MAMA) in both 2018 and 2019.