 No Pets (Cariba Heine)
Cariba Heine does not have any reported pets.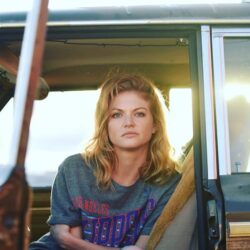 Birthday
October 1, 1988 (35)
Cariba Heine is an Australian actress and dancer, best known for her portrayal in the television series "H2O: Just Add Water."
The name Cariba Heine might evoke memories of mesmerizing underwater sequences and teenage drama for many. Heine solidified her reputation with her role as Rikki Chadwick in "H2O: Just Add Water," a series that not only showcased her acting prowess but also her exceptional dancing skills. Apart from "H2O," she further graced television screens in the spin-off, "Mako: Island of Secrets," and delivered a compelling performance in "Dance Academy," where her character, Isabelle, challenged audiences with her depth and complexities.
Cariba didn't dance her way to stardom alone. She was often surrounded by a constellation of equally bright talents. Collaborations with actresses like Phoebe Tonkin, Claire Holt, and Indiana Evans in "H2O" created a dynamic chemistry that resonated with fans. Outside of her mermaid adventures, she worked with actors such as Luke Mitchell, Burgess Abernethy, and Rebecca Breeds. Each collaboration brought unique flavors and challenges, deepening her foothold in the entertainment industry. Additionally, her moments shared with Alicia Banit and Dena Kaplan in "Dance Academy" were exemplary of her range as an actress and dancer.
While her on-screen escapades have captured the attention of many, so have her distinctions off the screen. She was notably nominated for the Logie Award for Most Popular New Female Talent due to her role in "H2O." Such recognitions are a testament to her commitment and dedication to her craft.