 Tyke & Litty Littrell
Brian Littrell had a couple dogs in the early 2000s. His two dogs, Tyke Littrell and his younger sister Litty, were dognapped. The dognappers turned out to be some overzealous fans of the popular boy band and were safely returned after a police negotiation. Thankfully those puppies made it home safe.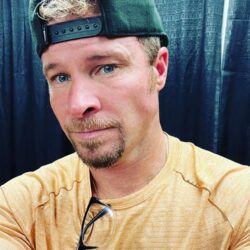 Birthday
February 20, 1975 (48)
Brian Littrell is an American singer. He is a member of the Backstreet Boys with Nick Carter, Howie Dorough, AJ McLean, and Kevin Richardson. He joined the Christian label, Reunion Records, in 2005 and released the solo album Welcome Home later that year. Welcome Home debuted at No. 3 on the Christian album charts with singles reaching the US Christian AC Charts. In the summer of 2005, his solo single, "In Christ Alone", went to No. 1 on the Christian charts.