 No Pets (Domantas Sabonis)
Domantas Sabonis does not have any reported pets.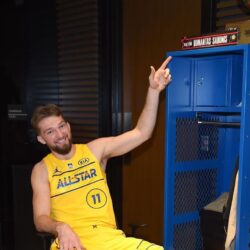 Birthday
May 3, 1996 (27)
Domantas Sabonis is a Lithuanian professional basketball player, primarily noted for his versatile playing style as a center for the Indiana Pacers in the NBA. Sabonis came into the spotlight during his tenure with the Oklahoma City Thunder, but truly shined after being traded to the Pacers in 2017. His time in Indiana has showcased his prowess in passing, rebounding, and scoring, making him an integral part of the team's core.
Sabonis has shown an ability to thrive in multiple playing roles, from coming off the bench to being a starter. The 2020-21 season proved to be a high point, as he averaged 20.3 points, 12 rebounds, and 6.7 assists per game, demonstrating his all-around capabilities. His unique skill set draws attention not only from fans but also analysts who laud his ability to stretch the floor and contribute on both ends.
In terms of collaborations, Sabonis has played alongside several noteworthy players. These include Russell Westbrook and Steven Adams during his time in Oklahoma, as well as Victor Oladipo, Malcolm Brogdon, T.J. Warren, Myles Turner, Caris LeVert, Justin Holiday, Aaron Holiday, Doug McDermott, and Jeremy Lamb during his tenure with the Pacers.
Throughout his career, Sabonis has earned recognition through several achievements. He was named an NBA All-Star in both 2020 and 2021, proving his elite status among players. Additionally, he clinched the NBA Skills Challenge title in 2021, illustrating his unique blend of size and skill. Notably, he also earned All-Rookie Second Team honors in 2017.