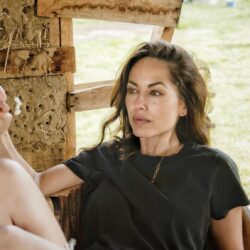 Birthday
February 2, 1978 (45)
Bárbara Mori Ochoa is a versatile actress and model of Uruguayan-Japanese-Mexican descent, widely recognized for her powerful performances in Latin American cinema and television.
Bárbara Mori's journey to fame commenced as a fashion model at the age of 14, but it was her acting talent that brought her widespread recognition. She captured the hearts of audiences in her breakout role as 'Azul' in the TV Azteca's telenovela "Azul Tequila," a role that earned her critical praise and established her as a formidable presence in the industry. Mori's talent for embodying complex characters was evident in her subsequent roles, most notably in the successful telenovela "Rubí." However, it was her leading role in the film "La Mujer de mi Hermano," where Mori displayed her range as an actress, playing a complex, layered character in this critically acclaimed film.
Mori's collaborations with prominent figures in the entertainment industry have also contributed significantly to her distinguished career. She worked alongside actors like Eduardo Santamarina in "Rubí," and Christian Meier in "La Mujer de mi Hermano," their on-screen chemistry bringing depth to the characters they portrayed. Her film "Cantinflas" saw her sharing the screen with Óscar Jaenada, Michael Imperioli, and Ilse Salas, further showcasing her versatility. Moreover, she collaborated with eminent directors like Ricardo de Montreuil and Sebastian del Amo, their artistic synergy resulting in engaging narratives that resonated with audiences. Mori has also worked with prominent producers, such as Salma Hayek, José Alberto Castro, and Epigmenio Ibarra, each collaboration adding a distinct touch to her growing portfolio.
Throughout her career, Mori has received numerous distinctions recognizing her skill and talent. She won the TVyNovelas Award for Best Actress for her role in "Rubí," solidifying her standing as one of the premier actresses in the telenovela genre. Her portrayal in "La Mujer de mi Hermano" earned her a nomination for Best Actress at the Imagen Foundation Awards.