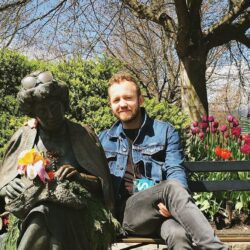 Birthday
January 9, 1986 (37)
Andrew Tolman is an American studio musician and songwriter best known as the member of the band The Moth & The Flame. He was a founding member of the band Imagine Dragons. In 2008, Andrew Tolman and his wife, Brittany Tolman, worked with Imagine Dragons on the first four EPs, Speak to Me (2008), Imagine Dragons (2009), Hell and Silence (2010), and It's Time (2011).
The The Moth & The Flame released their first EP in 2013 through Hidden Records. A second EP, Young & Unafraid EP, was released through Elektra Records.
Other members of Imagine Dragons include Daniel Platzman, Daniel Wayne Sermon, Dan Reynolds, Ben McKee, Andrew Beck, DANiiVORY, Brittany Tolman, Dave Lemke, and Aurora Florence.