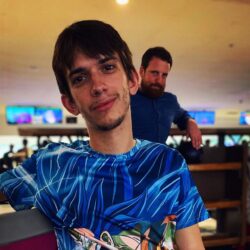 Birthday
June 21, 1995 (28)
Andrew Dismukes is an American comedian primarily recognized for his work on the iconic television show, 'Saturday Night Live' (SNL). Hailing from Texas, he initially joined the SNL team as a writer before making a name for himself on stage with his characteristic humor.
Dismukes' television career is marked by his remarkable performances on SNL, having been elevated to a featured player in the show's 46th season. His remarkable timing and delivery have brought life to a variety of roles on the show. Apart from SNL, Andrew's writing talent has been showcased in 'Call Me Brother,' a feature-length comedy where he also played the lead role, further extending his portfolio and displaying his versatility as an artist.
In terms of collaboration, Dismukes has shared the stage with a number of well-known artists. The SNL platform has allowed him to work with notable personalities such as Kate McKinnon, Kenan Thompson, and Pete Davidson. Additionally, he has worked alongside guest hosts of significant fame, such as Bill Burr, Anya Taylor-Joy, and Regé-Jean Page. Musical guests like Jack White and Megan Thee Stallion have also shared the SNL stage with Dismukes, creating a unique blend of comedy and music.
While Dismukes has yet to win major industry awards as of mid-2023, his contributions to SNL have played a part in the show's ongoing success, which has garnered multiple Primetime Emmy Awards over the years.
Outside of his professional work, Dismukes is a regular supporter of Austin Pets Alive!, a non-profit organization in his hometown that helps promote and provide resources for pet adoption. His social media profiles often feature his own rescue dog, emphasizing his personal commitment to animal welfare and encouraging his followers to consider adopting pets as well.