 XL Bully
Amani Hooker has a 130-lb XL Bully dog.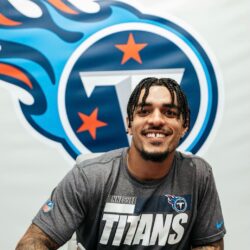 Birthday
June 14, 1998 (25)
Amani Hooker is an American football player, recognized for his breakthrough role as a safety with the Tennessee Titans in the National Football League (NFL). Armed with a penchant for football from a young age, Hooker has made remarkable strides in the world of professional sports, cementing his status as an invaluable asset to the Titans.
Upon his entrance into the NFL in 2019, Hooker's skills on the field have consistently shone through. His performance during his sophomore season with the Titans turned heads, where he recorded 51 tackles, four interceptions, and eight pass deflections. This powerful performance was just one of many in his career, earning him a solid reputation as a reliable, and tenacious safety.
Over the course of his career, Amani Hooker has had significant collaborations with other notable figures in the NFL. He has trained and competed with influential individuals like Kevin Byard, an esteemed safety with the Titans. Other noteworthy collaborations include working with head coach Mike Vrabel, and sharing the field with players such as Derrick Henry, Ryan Tannehill, Jeffery Simmons, and Harold Landry. Off the field, he has also interacted with prominent figures like John Robinson, the Titans' General Manager, and Amy Adams Strunk, the controlling owner of the team.
Hooker's professional journey has been punctuated with noteworthy recognitions. He was named as the Big Ten Defensive Back of the Year in 2018 during his tenure with the Iowa Hawkeyes in college. In 2021, his sterling performance was acknowledged when he led the Titans in interceptions.